Did you know you can use hashtags on Pinterest now?
In late 2017, Pinterest confirmed that users can use hashtags on their platform to label pins.
The feature works a lot like hashtags on Instagram, but you use them a little differently.
For example, you wouldn't use slang or meme phrases like #iwokeuplikethis. You would use topic-specific hashtags to categorize your pin, like #beautytips or #selfcare.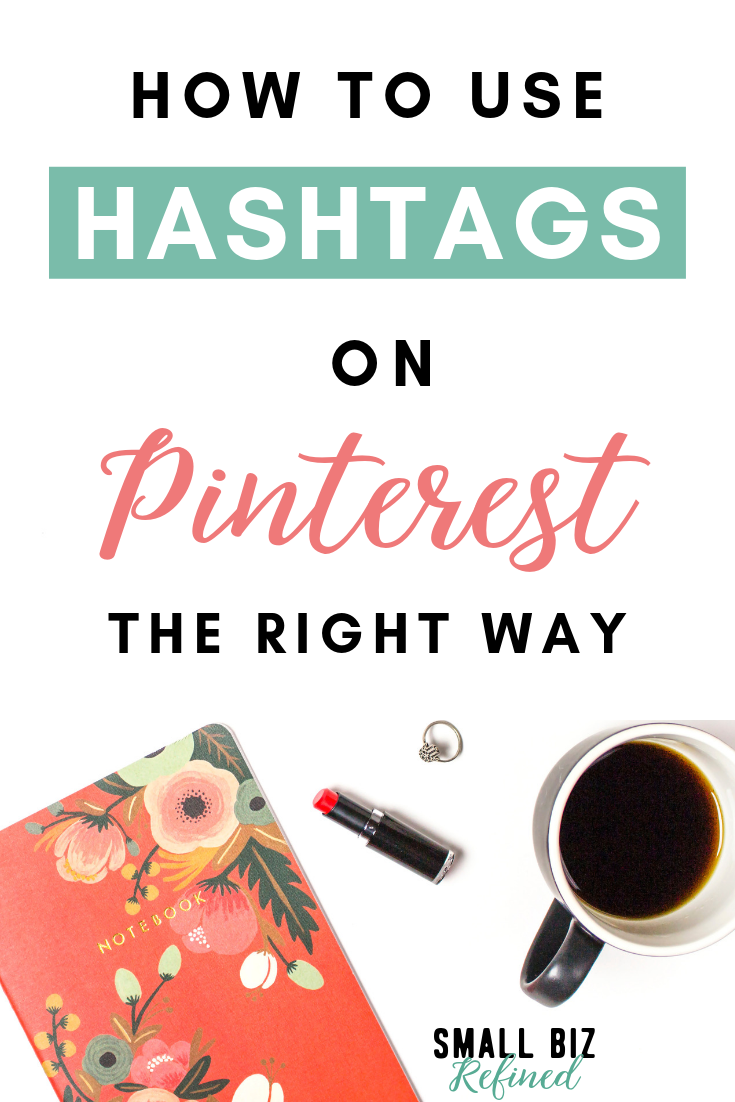 How do hashtags on Pinterest work?
Generally, the freshest pins generally show up at the top of each hashtag's feed.
When you add a hashtag to your pin description, that pin should show up reverse-chronologically (in the order it was added) to the feed for that hashtag.
If someone searches for that hashtag, your new pin will be there. If it's a popular hashtag, your pin won't stay at the top for very long, but it'll still be there if a user scrolls down far enough.
Hashtags are a great way to increase the visibility of your pins and get found more through Pinterest search. But, just like with Instagram, you have to be strategic if you want to get the most out of them.
You don't want to be that person throwing spaghetti at the wall and hoping something sticks!
Here are a few tips for using hashtags on Pinterest the right way.
Use 3-5 Hashtags Per Pin Description
Here's the thing: you only have a limited number of characters for your pin description (500, to be exact).
You still want to rank in the regular (keyword) Pinterest search, and help Pinterest understand what your pin is all about. So you should still use a majority of your pin description space for keyword-rich sentences and phrases.
Plus, people tend to ignore or skim over hashtags. If your description starts off with a bunch of hashtags, users will be more likely to ignore your description completely.
So it's best to add a handful of hashtags at the end of your description. That way, you can still use hashtags to rank in the chronological search without coming off as spammy.
Pinterest itself even recommends sticking to a few hashtags per pin.
The moral of the story here: don't replace your written description with hashtags. They should be a complimentary strategy, not a complete strategy.
Stay Relevant
Using hashtags that are irrelevant is a waste of your pin description space.
Let's say your pin links to a plush dog toy. Using hashtags like #lifestyle and #quotes aren't going to get you very far (even though they're popular).
Even if someone happens to see your pin in the hashtag's feed before it's buried by newer pins, the likelihood that the user will actually be interested in your pin is much lower than if you use a more niche-specific hashtag.
Stay on topic. Think about the types of hashtags your ideal audience might use to discover your products.
>>>>> Related post: 9 Ways to Get Your First 1,000 Followers on Pinterest
Switch Up Your Hashtags
Avoid using the same hashtags over and over. Using varied hashtags makes your pins more likely to be found through search.
Use Hashtags with Medium Popularity
Finding the right hashtags to use is a balancing act.
On one hand, you generally don't want to use hashtags that have very few pins, because it's unlikely that anyone is searching for them.
But if you find a hashtag that's not yet popular but you really think users would search for it, then by all means, use that hashtag!
On the other hand, if you use uber-popular hashtags like #love and #fun, not only are they way too general for capturing your ideal audience, but so many people use them that your pin will get buried in a matter of minutes.
It's best to look up potential hashtags through Pinterest first to make sure they have a reasonable amount of pins. I tend to stick with hashtags that have under a million pins.
And that's it! If you haven't used hashtags on Pinterest yet, give it a try. It's an awesome strategy for categorizing your pins and increasing your reach on Pinterest.