When I first started my small business, I thought I had to penny-pinch til' the cows came home. I never considered paying for any business tools, even if they would help me grow.
But eventually, after doing some extensive research, I allowed myself a small budget for the best tools. And I'm so glad I did. In a way, it was like fast-tracking my business growth.
While I obviously don't recommend shelling out all your hard-earned cash for every resource under the sun, I found that investing in a few useful tools was game-changing for my business (and can be for yours, too).
Below, I've provided the best resources I personally use in my businesses (both in my online shop and for this blog, Small Biz Refined).
Many are free (or have free versions), and some have a small cost. I'm only including tools I've used and I know are worth it.
At the bottom of the post, I've added links to some free PDFs I created to help you create & market your business.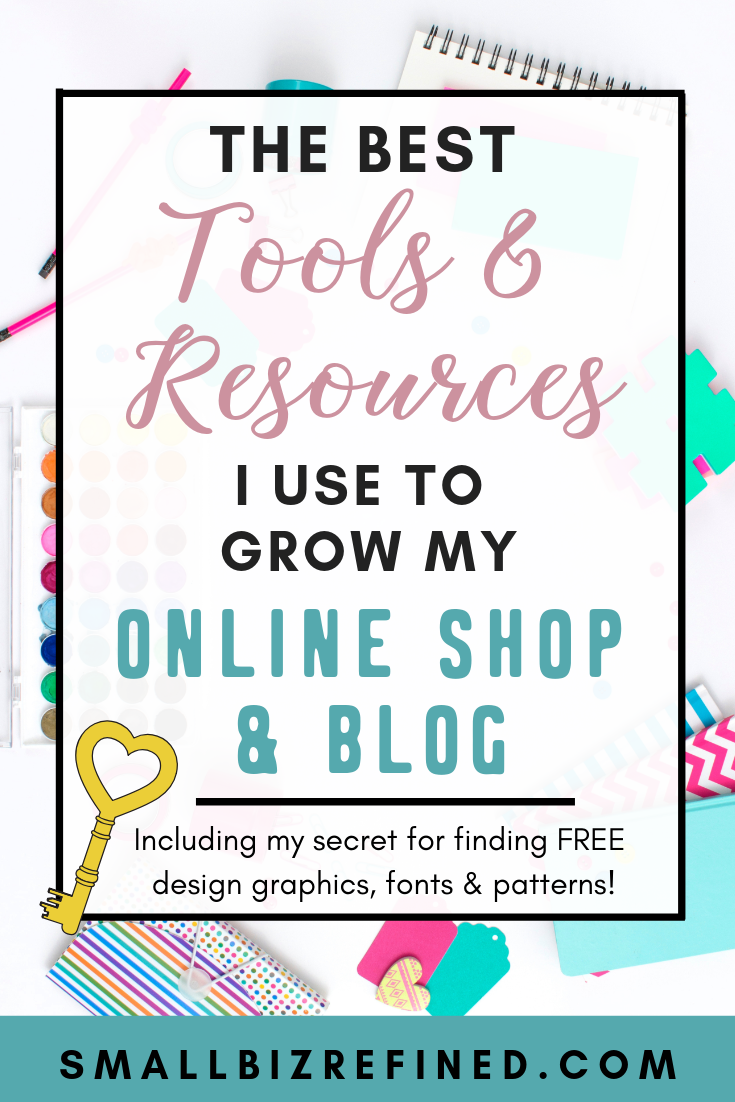 Please note, some links on this page are affiliate links. If you purchase a product through an affiliate link, I may receive a small commission at no additional cost to you. See my full disclosure policy here. Thank you for your support!
Traffic + Growth
Tailwind
Tailwind is the fastest, easiest, AND least expensive way to get traffic to your website or product shop (coupled with Pinterest).
If you haven't heard of Tailwind, it's a game-changing scheduling app for Pinterest. It determines the best times for you to pin based on when users are online, and it queues up pins that you select.
It's powerful for expanding your reach on Pinterest while also saving you time. It helped me get over 1 million monthly Pinterest views. So yeah, I'm a fan!
Plus, there's a feature called Tailwind Tribes where users collaborate & share each other's pins to their own audiences. Read this post for my Ultimate Strategy Guide to Using Tailwind for Pinterest (plus a trick for joining exclusive Tailwind tribes!).
Tailwind has a free plan, which lets you schedule 20 pins per month AND you can use Tailwind Communities, too! Here's a link to sign up. I use Tailwind so much that I upgraded to the Pro Plan (it's $15/month or $10/month if you pay annually), and it's absolutely been worth it for my business.
Mailchimp
As a small business, you absolutely need to have an email list. You don't own your Instagram or Pinterest following (what happens if those platforms disappear one day?). But you DO own your email list. Most importantly, email marketing is the best way to sell to your audience.
If your business is newer and you don't expect to have a large following anytime soon, I recommend starting with MailChimp as your email marketing platform. You can easily send emails to your list for FREE (up to 2000 subscribers; after that there's a small monthly fee).
ConvertKit
ConvertKit is a more robust email marketing platform. You can easily create email campaigns, landing/sales pages, and forms for your website.
Landing pages are essential for online shops without their own website (Etsy sellers, for example). This is how you can easily offer a freebie to get people to sign up for your email list.
Plus, ConvertKit is actually tailored to product sellers. It can track the exact interests of your audience and tag your customers based on which products they've purchased.
Get a FREE trial for ConvertKit here.
Graphics & Social Media
Creative Market
Creative Market is a one-stop shop for fonts, graphics, backgrounds, vectors, and graphic templates (like pins or Instagram stories). I didn't know about this digital slice of heaven until recently, but I'm so glad I discovered it.
It's the best resource for nailing your social media & branding without too much effort or expense. You can also find stock photos and mockups (for apparel, mugs, etc) perfect for product sellers.
Bonus: If you sign up for their email list, you'll get 6 free downloads in your inbox every Monday. This is something I look forward to every week. Even the free resources are beautiful.
Canva
Canva is the best tool for creating awesome graphics for your business. It's what I use to create Pinterest pins, Instagram posts, and anything else with overlaid text (think Etsy shop banner, or website logo).
The best part: you can totally get away with the free version. I used the free version for the past two years and it's had all the functionality I've needed.
You do have the option to switch to the business (paid) version if you want to upload your own fonts (for example, from Creative Market). It allows you to keep all your branding available in one place: your brand colors, fonts, and more.
Canva for Business costs a small monthly fee, but for me, it's worth it.
But there are tons of fonts, graphics, backgrounds, and templates available for FREE, and they are gorgeous. So you can't go wrong either way.
Building a Website & SEO
Shopify
It took me ages to research and finally decide on a platform for my online book shop. I'm SO glad I went with Shopify. It's easy to set up a beautiful website with all the functionality an online shop needs.
With my own website (rather than using Etsy, Amazon, eBay, etc), the fees are much lower, I have complete control over my brand & business, and I can drive traffic using SEO. I can have a blog and sell my products all on the same site.
If you sell products, consider using Shopify in conjunction with (or instead of) a selling platform. For my own shop, I've seen a lot of success using Instagram & Shopify together. Click here for a free trial to Shopify.
SEO Tools
I love the free UberSuggest keyword finder tool for making search engine optimization easy, so I can drive more traffic to my website. It's my favorite way to find keywords for my website. You can easily see how competitive each one is, and how likely you'll be able to rank for it in Google.
>>>>>> Related post: How to Supercharge Your SEO to Drive More Traffic to Your Website
It also lets you analyze your competitors and track your search engine rankings.
Free PDFs:
Create Your Online Shop Checklist
Pinterest Marketing Power-Up Checklist
There you have it: my favorite business tools & resources. I hope they are just as useful for you as they have been for me!