Want more website traffic for your business? These SEO tips for small business owners are essential for growing your online presence – and I promise it isn't as complicated as it sounds!
Real talk: search engine optimization (SEO) isn't the sexiest topic for creative entrepreneurs. Even I avoided it at first. And I'm a tech nerd!
But it's one of the best ways to get a constant stream of traffic to your website, without having to share on social media over and over again.
As an online shop owner or creative entrepreneur, SEO can seem daunting. That's why so many people ignore it. But that's also exactly why you shouldn't. Don't you want to be ahead of the game?
Despite its reputation, SEO isn't quite as difficult or as complicated as it sounds. Sure, it takes some time to build up at first; all strategies do. This one just happens to continue to work for you long after you put in the work (similar to Pinterest, actually!).
I've put together some tips to help explain SEO in simple terms for you, so it'll make sense even if you aren't super tech-savvy.
These are all helpful tips and strategies to get your small business' website to rank higher in Google and get seen by a larger audience. That doesn't sound too shabby, does it?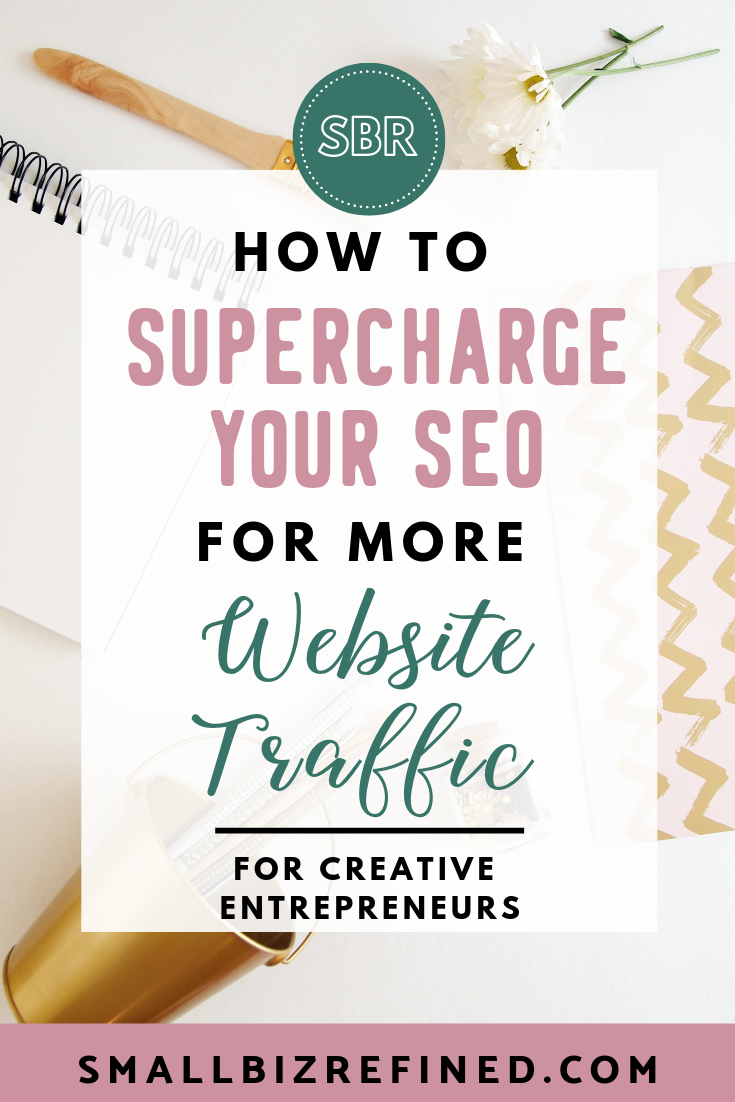 First, a little background information to help you better understand how search engine optimization works. I promise it'll be quick and painless! Plus, the tips that come after will make a lot more sense.
What is Domain Authority?
Domain authority is an important factor Google uses to determine how highly your site will rank in search results. This is calculated from a combination of domain age, backlinks, relevance, and other factors.
If you're not sure what a domain is, I'll give you an example: my domain is 'smallbizrefined.com'. They're typically purchased through a site like Namecheap or GoDaddy.
Domain age is basically how long your domain has existed.
In general, it takes search engines about 4-6 months (from when your domain is first created) to comb your site and start ranking your content higher.
If your domain is newer than that, don't worry. There are still plenty of things you can do to improve your SEO ranking. I'll get to those later in this post.
If you purchased your domain from another person (as in, it already existed), you'll want to make sure it wasn't a spammy or inappropriate site before you bought it. That can hurt your ranking.
You can use this tool to check your site's domain authority for free. You can also see a list of backlinks that currently point to your site.
The higher domain authority of the site that's linking to you, the more impact it has on boosting your own domain authority. Now, let's get into the essential SEO tips for small business!
How to Do Keyword Research for SEO
Where do I find the best keywords for my small business website?
If you're just getting started, I recommend either using this free keyword research tool (Ubersuggest) or getting a free trial to Keysearch (my favorite tool) to find keywords for your products, blog posts, or any other content you want to rank. You can also see how competitive each keyword is.
I use the paid version of Keysearch (less than $20 per month) and it's absolutely worth it. With the paid versions of these tools, you can do even more, like analyzing your competitors and tracking your rankings.
The best type of keywords to use are medium and long-tail keywords. These are 3-5 word phrases (ex: 'Harry Potter enamel pin' vs. 'enamel pin').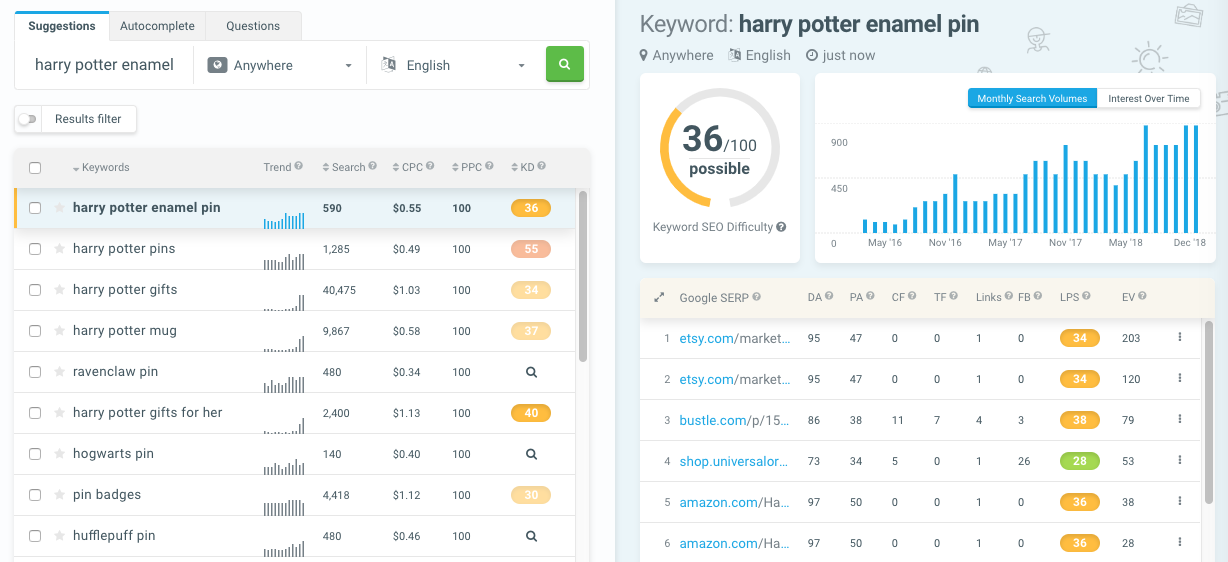 Why should you use medium and long-tail keywords? Because they're more specific, and therefore have less sites trying to rank for them. Less competition means you're more likely to rank higher! This is especially important if your domain authority score isn't very high yet.
When deciding which phrases to consider, think about how actual humans would type what they're looking for into Google. These are real people looking to solve a problem. What wording would they use?
Also important: If you want someone to click on your link over others', your title needs to be intriguing and clearly state how it will solve their problem.
Where should I put keywords to optimize for SEO?
There are five places on a post or page where you should add 1-2 keyword phrases:
Title
Headings (H1, H2, H3 – the outline of your post)
In the Body of Your Text
Meta Description (the snippet of text that shows up below your title on your Google listings that describes what the post is about)
In the Alt-Text of Your Images (tells search engines what your image is about)
It's best to put your keyword near the front of your blog post or page's title. Google cuts off the title after the first 60 characters or so, and you want your title to be clearly relevant to your user's search query. That way, they're more likely to click it.
A word of caution: don't keyword-stuff or use the same phrase over and over. Google's smart and can figure out what you're doing!
Small Business SEO Tips: Improving Your Domain Authority & Ranking
1. External Backlinks
A backlink is a link to your domain from another website. Every backlink you get adds a little more juice to your domain authority (as long as it's from a reputable and established site).
Here are a few great ways for creative entrepreneurs to get quality backlinks:
Guest Posting
Look for blogs in your niche that might be open to guest posts. Sometimes, they'll say directly on their website that they're looking for guest posts. If that's the case, they typically mention what subjects they're interested in and how to submit your post.
If you can't find anything on their website, you might need to contact them directly. It never hurts to ask! A tip: you'll have better luck getting a yes if you include a suggestion for a blog title/subject, why you're an expert, and how it can benefit their audience.
Blog Product Reviews
Find influencers & bloggers in your niche and ask them if they'd be willing to review your product (with a link back to your site). Of course, you'll need to send the product to them for free.
Believe me: it's almost always worth it, as long as you've done your homework. Is the blogger established? Does he/she have a reasonably-sized, engaged following? Also, make sure the blogger's audience is a good fit for your product before deciding to contact them.
>>>>>>> Related post: How to Use Pinterest SEO to Explode Your Reach
Blog Gift Guides
Another option is to collaborate with bloggers or other online shops for gift-guide blog posts. These are typically list posts like '10 Best Bookish Toys for Kids' or '7 Perfect Gifts for Entrepreneurs'. These can be really popular around the holidays, and are a great way to get backlinks (plus a traffic boost from someone else's audience!).
HARO
Check out this post about getting online exposure for your business, which includes using a site called HARO (Help a Reporter Out) to get genuine backlinks and media exposure.
2. Internal Linking
Be sure to interlink your own content on every post and page on your site. If you have a related post or page, link to it in the post you're currently writing. This gives you more SEO juice and keeps people on your website longer.
3. Quality Content
Ideally, your post or product page should be between 800-2,500 words long. The average post that ranks on the first page of Google is 1,500-2,000 words long.
Your content should also provide helpful information that people are looking for. The better you answer someone's question, the higher Google will rank it. (Even if it's shorter than your competition's post).
You can find what people are looking for by typing your keywords into the Google search bar, and seeing which questions pop up.
If your post or product is high quality and solves a pain point for people, they're more likely to share it (even without you asking them to). That's the dream! 🙂
4. Mobile-Friendly Theme
In this day and age, your website's theme needs to be mobile-friendly.
This means that if someone is viewing your site on their phone (rather than on a computer), the page should fit proportionally. The text and images should still be readable, and the design should scale so it's still attractive to the eye.
If your website isn't mobile-friendly, it'll hurt your search engine rankings. So please, consider this when choosing a theme!
This also means any functions that can be performed on a desktop should also work on mobile. For example, clicking a link in navigation, or closing a pop-up window.
Make sure to test your site on BOTH a computer and a cell phone. There's nothing worse than someone trying to buy from you, but they can't because of a faulty button.
And that's it: simple yet essential SEO tips for small business owners! Thanks for sticking with me. 🙂 Remember: if you put in the effort now, it'll pay off in the long run. These tips will help you get there!
Related post: How to Submit a Sitemap to Google & Get Your Website Crawled ASAP