Email marketing is one of the most effective ways to grow an audience and sell your products – no matter what you sell. So I wanted to share all the essential email marketing tips I've learned over the years, to help you refine your strategy (and avoid common mistakes!).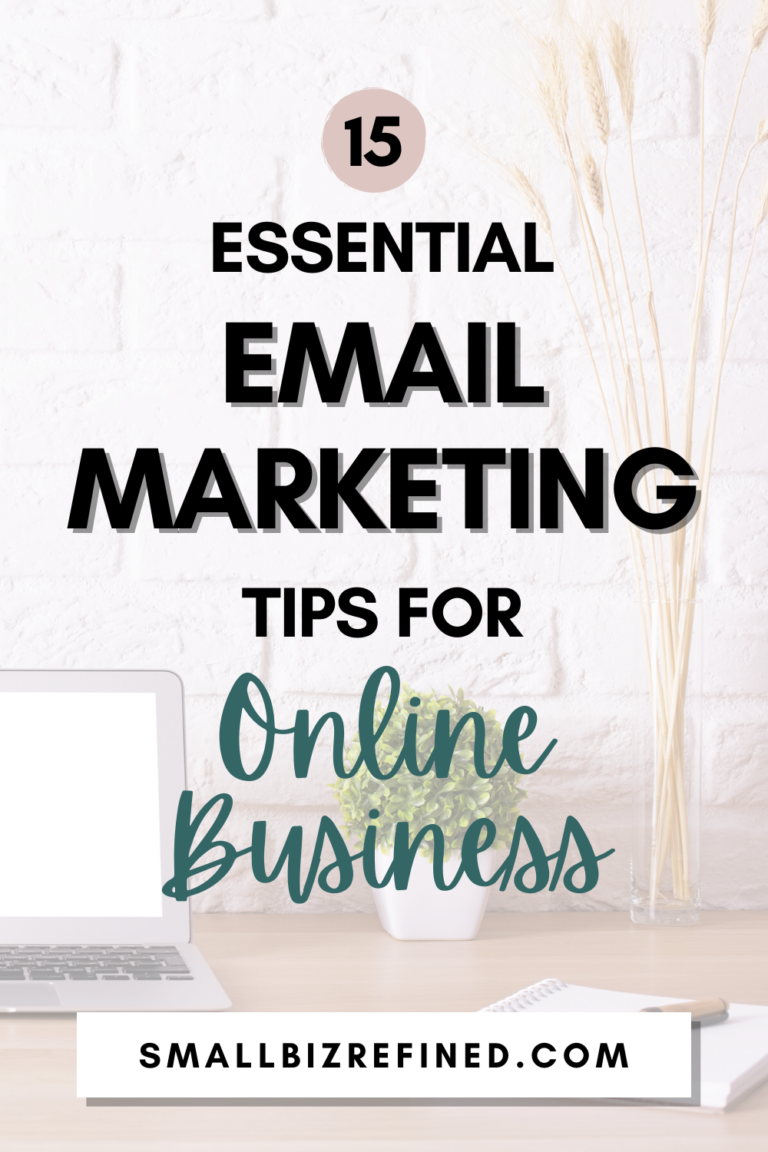 Please note, some links on this page are affiliate links. If you make a purchase through an affiliate link, I may receive a small commission at no additional cost to you. As an Amazon Associate, I earn from qualifying purchases. See my full disclosure policy here. Thank you for your support!
Why Email Marketing is So Important for Online Business
Anyone can stumble on your website, but the fact is: they're unlikely to buy from you right away. That's just the nature of online business. This person doesn't know who you are, if they can trust you, and/or which of your products is the best fit for them.
But if they subscribe to your email list (for example, in exchange for a juicy opt-in freebie), you have a chance to show them how you can help solve their problem, or share a product they'll love.
That's why it's so important to focus on growing your email list, building trust, and providing value to your subscribers. So let's talk about how exactly you can make that happen – and what not to do!
Tips for a Strong Email Marketing Strategy
1. Don't Be Afraid to Show Your Personality
This is the first tip on the list because it's something I see so often: people sending emails that sound like they're written by a robot. Nobody wants to read an email that's boring or forgettable! And the best way to make your emails stand out is to let your personality shine.
Share a tidbit or two about your life. Share a polarizing opinion. Use details to get a point across and evoke emotion.
Your emails don't need to be Pulitzer prize-worthy, but the more interesting they are, the more engaged your audience will be. They'll actually remember who you are – even among a mountain of unread emails – and look forward to opening your emails in the future.
2. Create a Unique Freebie to Grow Your List
You need an incentive for someone to subscribe to your email list. Nobody wants to join a list without getting anything in return! That's where opt-in freebies come in.
Your freebie should be high-value, provide a quick win for your subscriber, and be directly relevant to your business. You're trying to attract your ideal audience, so you don't want something too generic.
Create something specific – like a printable, short helpful guide, or digital artwork – that's related to your products and attracts those with similar interests. Here are 7 opt-in freebie ideas to help you brainstorm!
3. Create Evergreen Sequences / Email Series
One of the first things you should do after setting up your opt-in freebie is set up a welcome email sequence. This is a sequence of emails where you share who you are, what you do, and how you can help your subscriber.
Provide value here, whether it's something educational, entertaining, or time-saving. This is the first step toward building trust with your audience (and making sure they're the right fit for you, too!).
4. Double-Check Your Links
There's nothing worse than a subscriber wanting to read more about what you're sharing, only to be sent to the wrong URL (or an error page). Make sure to check your links before you hit send/schedule on your emails!
5. Remove Cold Subscribers From Your Email List
It might seem counter-intuitive to remove people from your email list. But numbers aren't everything! In fact, you're wasting money paying for subscribers who don't open your emails. Not only that, but leaving cold subscribers on your list decreases your email open rate, which can be a cue to email providers that your emails aren't high quality.
So be sure to go through your list every so often and remove subscribers who haven't opened any of your emails in the past 2-3 months (depending on how often you send emails).
6. Segment Your List by Interests
When I discovered I could group my email subscribers in certain segments based on interest (i.e. which freebie they signed up for, or which purchases they made), it was a game changer. Not only does this help you understand your audience better, but it also helps you avoid unsubscribers by only sending certain emails to those who share that interest.
For example, let's say you're a woodworker who makes wooden toys. One portion of your audience might be interested in toys for babies/nurseries, whereas another separate group might be interested in Dungeons and Dragons figurines. If you have a way of differentiating the two groups, you can easily set an automatic tag to segment your audience, and then send them different sales sequences.
Many (but not all) email marketing providers have this capability. The one I use, Convertkit, is super easy to set up and customize. You can get a free trial to ConvertKit here.
7. Your Email's Subject Line is Just As Important As Its Contents
One of the most important email marketing tips you'll ever learn: don't underestimate the power of a strong subject line.
The subject line is the first thing someone sees, and it's what helps them decide if they want to open your email or not. Make sure it's juicy or intriguing. Mix up the types of subject lines you use, too. Give some subject lines an air of mystery, and clearly state the email's intent in others.
In general though, keep subject lines short, and avoid using too much punctuation. But feel free to toss an emoji in there on occasion!
8. Include Photos (but not too many!)
Break up your text-heavy emails with photos and/or GIFs! They can be easier on the eye than a bunch of text, and can often get a point or emotion across quicker. Plus, I've noticed my image links often get better click-through rates than my text links.
Just make sure not to overload your emails with them, as they can take longer to load.
9. Share Links to Your Social Channels
Don't be afraid to ask your audience to follow you on social channels! It's an easy way to grow your audience on other platforms.
10. Don't Spam Your Followers
Nobody wants to get 7 emails a day from you, especially if they don't have any value in them! Of course, it's ok to send emails more often during a sale or product launch, but try to keep it to a reasonable amount.
11. Re-Purpose Past Emails in Future Sequences
Don't let that genius email you spent hours writing go to waste! Repurpose your most engaging and valuable emails by including them in an email sequence for future subscribers to enjoy.
12. Schedule Your Emails for Ideal Times (Based on Your Audience)
Don't just send your email the moment you finish writing it – especially if it's the middle of the night! Consider your audience and their lifestyle when deciding the best time to send your emails. Most email service providers allow you to schedule emails to send out at a later date/time.
There are a few things to keep in mind when scheduling your emails. Where does the majority of your audience live (country, time zone, etc.)? Are they morning people, or night owls? Do they have day jobs? You can definitely test out different dates/times and switch it up, too – you don't have to always send them at the same time!
13. Don't Only Send Sales/Marketing Emails
Your subscribers probably don't want to stay on your list if all you do is sell to them. Make sure you're providing something of value in return! Freebies are great, but it's a good idea to occasionally send informative or fun emails to your audience, too, to keep them engaged.
14. Avoid Spammy Words in Your Email Subject Lines
Using certain words in your email's subject line can trigger spam filters, and send your emails straight to your subscribers' Junk mail folders. Here's a list of email spam trigger words to avoid.
15. Don't Beat Yourself Up Over Unsubscribes
It might be hard to believe, but unsubscribes can be a good thing! You want people on your list who are interested in what you have to say. Why pay to send emails to people who aren't your people?
Of course, if you see a lot of unsubscribes, it doesn't hurt to look into what might be causing them. Maybe your opt-in freebie is too generic and you aren't attracting the right audience. But in general, unsubscribes are completely normal, and help keep your email list healthy.
Email Marketing Tips: Conclusion
I hope this list of email marketing tips has you inspired to start connecting with your subscribers! Remember: those are real people reading the emails you write. They want to get to know you, not just what you sell. Give them a reason to remember you, provide value, and watch your business flourish!