When it comes to email marketing, your welcome email (or sequence) is your best opportunity to make a good first impression.
It's the first email (or series of emails) someone receives once they join your email list. This is how they get to know you and what you do. You can start to form connections with your audience in a more intimate way.
Email marketing is essential for building trust. The first step: entice your audience to sign up for your list with a freebie, like a free checklist, printable, or discount code. (Here are 7 awesome opt-in freebie ideas for inspiration!).
Then, you build a relationship with them by teaching, providing value, and allowing them to get to know you on a more personal level.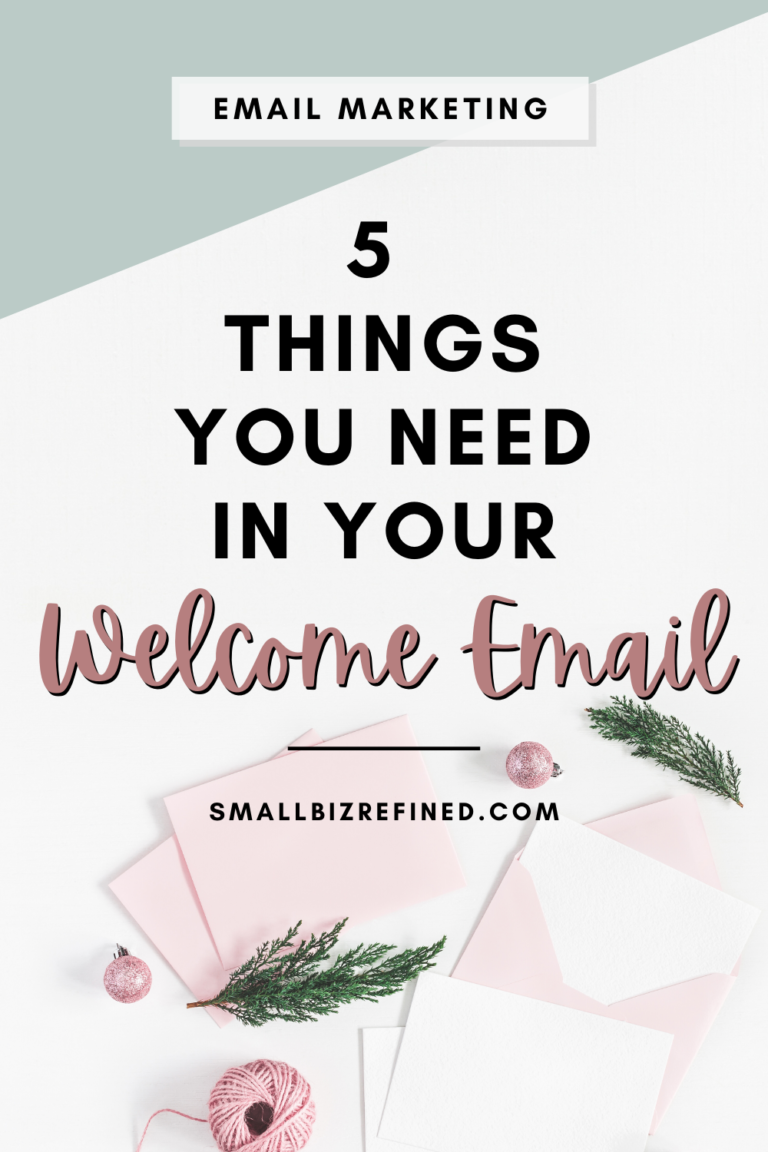 Please note, some links on this page are affiliate links. If you make a purchase through an affiliate link, I may receive a small commission at no additional cost to you. As an Amazon Associate, I earn from qualifying purchases. See my full disclosure policy here. Thank you for your support!
First, let's talk about how to send a welcome email to a new subscriber.
How to Deliver Your Welcome Email
Almost every email marketing platform I've come across will automatically send at least one welcome email to a new subscriber on your list.
If you use a free software, you may not have the option to create an email sequence. But most (if not all) paid platforms will have this feature.
For Small Biz Refined, I use ConvertKit to instantly deliver my opt-in freebies (and for all my email marketing needs, including email sequences). It makes my life a whole lot easier!
Convertkit allows you to space out your sequence emails, so they don't all send out at once. (And, you can tag people based on the freebie they opted into or the links they click on, and deliver specific sequences based on those interests).
You can get a free trial to ConvertKit here.
Now, what exactly should that first email (or two or three) include?
5 Things to Include in Your Welcome Email
1. A warm welcome + your freebie
Your welcome email exists for a reason – to welcome someone to your email list! Make it clear that you're excited they've signed up.
It's also SUPER important that you include a link to your freebie! Follow through on the promise you made in exchange for your new subscriber's email address.
Keep in mind: some email marketing platforms – like Convertkit, the one I use – automatically send a separate email with the download link for your freebie. So you don't need to include the link twice, unless you want to.
2. A personal introduction
When you're writing a welcome email, it can be easy to forget that you're writing to individuals – not some faceless group of people! And the best way to build trust with someone is to share a little about yourself.
Start out with an introduction. Share your name and a little about your business: why you started, how it aligns with your passions, etc.
Feel free to sprinkle in a personal detail or two. It makes you more memorable, and gives the reader a chance to find something in common with you!
3. Your target audience
At some point in your welcome email or sequence, it's a good idea to mention the type of person your business aims to help.
For example, does your target audience consist of working moms? College students? Newly-engaged couples? Business owners?
This allows your new subscriber to identify with your business, and understand that your content and/or products are meant especially for them.
4. What to expect
Tell your new subscriber what they can expect as a member of your email list.
How often do you send emails? What topics do you cover? Do you send occasional additional freebies? Let them know what they can look forward to.
(You don't need to include ALL of this information, but a glimpse of what they can expect from you is helpful).
5. Ask a question
Lastly, ask your new audience member a question about themselves! This opens up a conversation and allows you to get to know them on a deeper level.
You can ask them what they're struggling with (as it relates to your business), what they love most about a topic related to your business, or even just ask them to introduce themselves.
Bonuses to include in your welcome email or sequence
Here are a few extras I like to include in my welcome sequences:
An additional freebie
A "teaching" or "how to" email that provides value on a particular topic related to your freebie
Tips or advice that you've learned along the way
Your welcome email is likely one of your most-opened emails, so it's important to at least have something written. But it doesn't have to be perfect! Start somewhere, and build from there.
I hope this list has inspired you to write your first welcome email (or improve on an existing one)!