Winter is coming, which means changing up your Instagram strategy just a bit with winter hashtags! From the holidays to cozying up in the sweater weather, I'm sharing some of the best winter-inspired hashtags to use.
But before you slap some hashtags onto your post, remember that it only makes sense to use these if your image and caption are relevant! If you're posting something that has nothing to do with winter, it doesn't make sense to use hashtags that do. It's all about leaning into seasonal content where you can – but only when it makes sense.
Another quick tip: try to avoid overly generic hashtags like #winter or #holidays. These are used so often that your post will likely just get buried in the hashtag feed (and we don't want that!). Instead, choose more specific hashtags that aren't as widely-used.
To help with that, I've put together a list os winter hashtags, organized by popularity. So let's get to the list!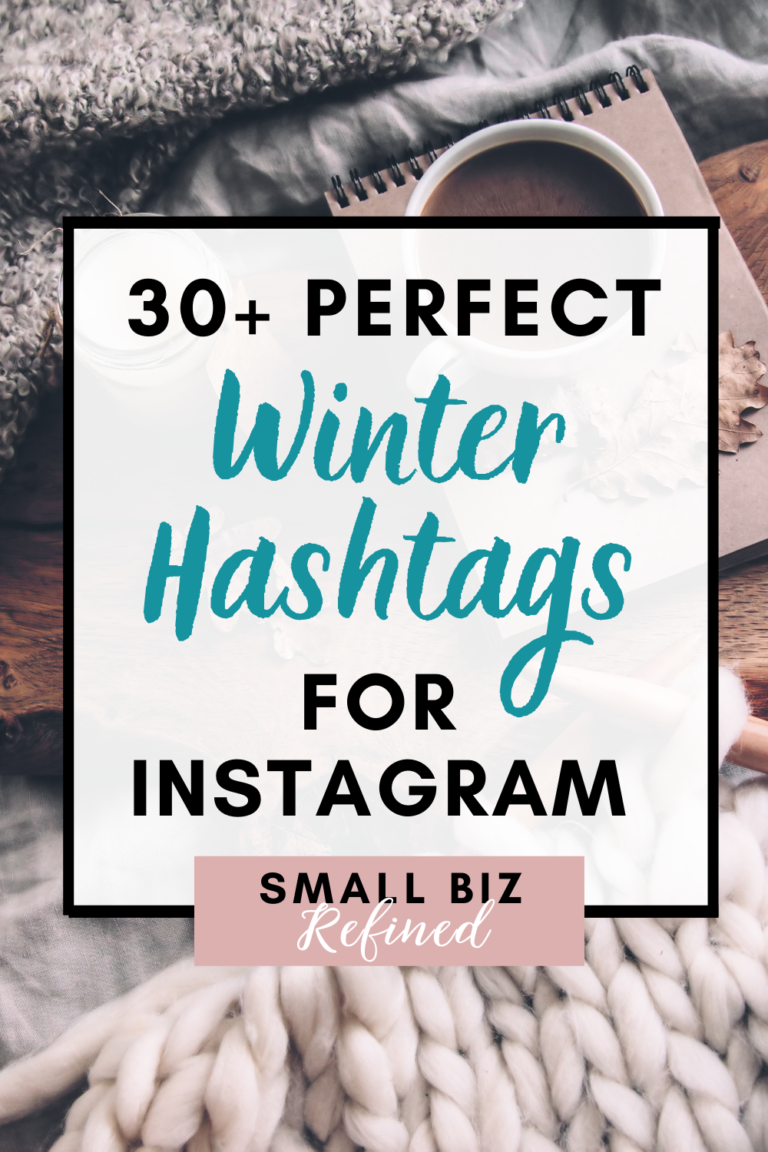 Instagram Winter Hashtags
(These are listed in order from smallest amount of posts to largest.)
#santasworkshop
#latkes
#winterscape
#menorah
#santacon
#doyouwanttobuildasnowman
#stockingfillers
#santaiscoming
#happyhanukkah
#winternights
#winterfell
#merryandbright
#christmasmagic
#hotcocoa
#christmascheer
#wintersolstice
#winterwear
#winterseason
#snowdays
#feelingfestive
#secretsanta
#staywarm
#whitechristmas
#wintervibes
#adventcalendar
#festiveseason
#letitsnow
#winterishere
#hohoho
#winterfun
#coldweather
#snowflakes
#tistheseason
#winterwonderland
Of course, those are just some of many winter-related hashtags out there! For even more inspiration, below is a list of winter holidays and related topics to help you brainstorm and grow your own winter hashtag list.
Check out these related posts for other seasons: Instagram hashtags for summer and Instagram hashtags for autumn!
Popular Winter Topics for Hashtag Inspiration
Skiing/snowboarding
Sledding
Winter Olympics
Hot chocolate/hot cocoa bombs
Baking
Soups/stews
Warm clothes (sweaters, scarves, hats, boots, etc.)
Winter vacations
Winter Holidays
Christmas
Hanukkah
Kwanzaa
Diwali
Boxing Day
Winter Solstice
New Year's Eve
Martin Luther King Jr. Day
Black History Month
Valentine's Day
I hope this list of hashtags is helpful – don't forget to bookmark this page so you can come back to it when you need it! With these hashtags, you'll be boosting your Instagram engagement in no time. 🙂
Looking for more Instagram tips? Check out these posts: