Starting an online shop and need some DIY product photography tips? I've got you covered.
Quality product photography is essential for attracting potential customers. When I'm on Etsy, Instagram, Pinterest, or any other visual medium, I scroll right past dark or blurry pictures. And I know I'm definitely not the only one.
Poor photography could be killing your sales. You might have the coolest product in the world, but if the image doesn't initially attract the viewer, they won't give it a second glance. This goes for both social media AND your selling platform.
Believe me, I know how tough it is to take perfect photos of your products. I cringe when I see the photos I posted of my products when I first started my online shop.
But as small business owners, we don't usually have the budget to hire a professional photographer and rent out a fancy studio. Luckily, you don't need those things to take great pictures!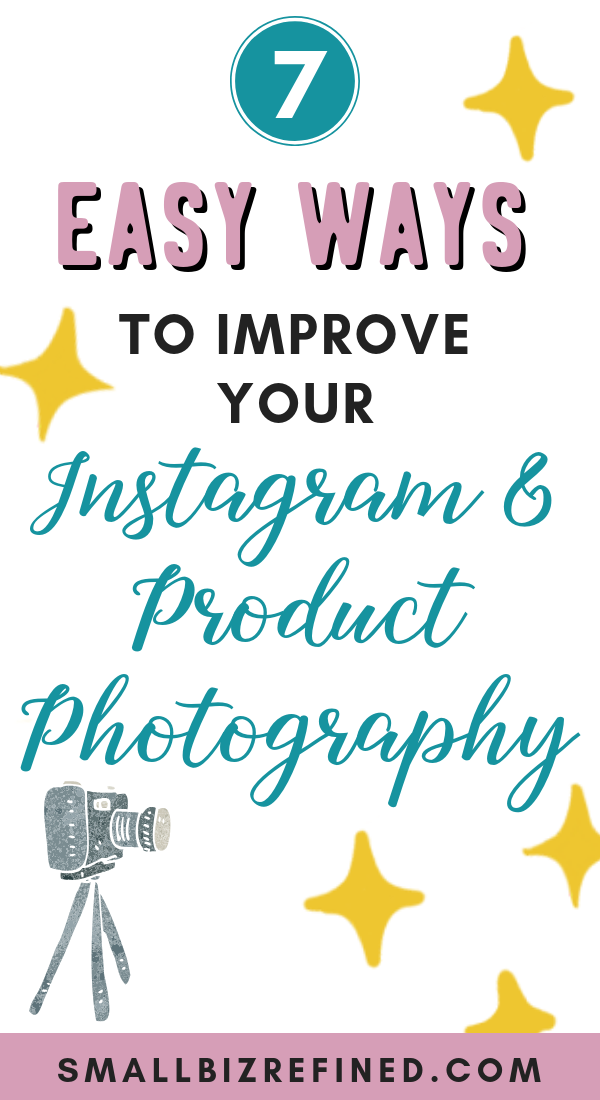 Please note, some links on this page are affiliate links. If you make a purchase through an affiliate link, I may receive a small commission at no additional cost to you. As an Amazon Associate, I earn from qualifying purchases. See my full disclosure policy here. Thank you for your support!
Tips for Improving Your Product Photography
Over the years, I've discovered some simple tips that have transformed the quality of my DIY product photography. While I'll never be a professional photographer, I've come a long way, and I want to help you do the same.
I'm going to show you how to DIY your product photography so you can look polished and showcase your products without breaking the bank.
So, as promised, here are 7 easy ways to rock your product photography on a budget!
1. Use a Quality Photography Backdrop for Your Products
Using a nice backdrop is a powerful (and easy) way to make your photos look more professional.
You can use digitally textured vinyl, plain poster board, cloth, or various other options. Just make sure it's not too complex to take the focus away from your product.
Backdrops can be used for all types of shots, including straight-on shots (3-dimensional) and flatlays.
For straight-on shots, you'll want something that you can either fold or drape so it covers both behind the product and below it.
For a flatlay, you just need a one-dimensional backdrop (like a poster board), because you're taking the photo from above. One unique way to use this method is to add a pop of color by overlaying a white background with a bright-colored one at an angle.
It's important to stick to your brand's aesthetic when deciding which backdrops to use. Think about the type of person you're trying to attract.
Are they fans of rustic home decor? Consider using a vintage wooden box or plank as your background.
Are they all about the glitz and glitter? You might want to use a bright or shiny color for some extra pizzaz.
If you're looking for a minimalist feel, you can't go wrong with something simple, like this white brick backdrop:
Whichever you choose, make sure to keep it clean and wrinkle-free, so you can re-use it over and over again.
2. Focus on Lighting
Natural lighting is best when it comes to taking quality pictures. You can invest in a lighting system if you have the budget, but as for the rest of us, we have to work around sunlight.
Channel the light by setting up a light box. I use a white trifold display board. Stand the board across from a window, open and facing toward it. Place your background or backdrop on the floor underneath it (or behind it, depending on the angle of the photo).
This helps remove unwanted shadows, and reflects the light so it's even. It can also double as a backdrop if you're in a pinch.
Typically, early morning or late afternoon provide the best light for photography. Avoid taking photos when it's too dark or very sunny. Slightly overcast days are ideal!
3. Add A Few Photo Props
For social media, especially visual platforms like Instagram and Pinterest, you'll want to go beyond the plain background and show your products in real-life settings. It helps potential customers picture them in their own homes and lives.
Plus, some products look even better on a stand or supporting prop: jewelry trays, ring stands, things like that.
Use a few simple props (or wild & wacky, if that's your style!) to add texture and make your photos more interesting.
These can be chalkboards, succulents, trays, porcelain figurines; the options are endless. Here are 35+ unique prop ideas to get you started.
4. Take Multiple Photos of Each Product Shot
Even if you think you got the perfect shot right away, take a few more photos. You might not have noticed a hidden shadow, or the fact that somehow the ends of your hair got in the picture (yep, that's happened to me).
It can take some work setting everything up, so make sure to take more photos than you need so you don't have to do it all over again.
5. Do I Need a Fancy Camera for Product Photography?
Nope! While having a nice camera can definitely help, all you really need is a camera phone. (That's what I use!)
If you can, invest in a quality camera phone. It's cheaper than an actual camera and easier to use. It really does make a big difference.
I used to have an iPhone 7, and while the picture quality was fine, I saw a big improvement when I upgraded to an iPhone 8 plus. The portrait mode alone is worth it – it gives you that cool blurred background effect while putting the focus on your subject.
But, if you can't afford it at the moment, you can totally get away with what you have. You can also use editing apps like FaceTune to add different effects.
That leads me to my next tip:
6. Don't Zoom on a Camera Phone
Using the zoom function on your camera phone can cause the image to become pixellated.
Instead, move closer to the product before taking the picture. You can always crop it later on your computer.
7. Experiment With Different Angles of Your Product
Make sure you're providing your potential customer with multiple angles of your product. This helps answer any questions they might have regarding dimensions, texture, and shape.
If you can, photograph your product both close up and far away, from different side angles, and from behind.
Plus, an interesting angle may stand out better than the standard, face-on approach. You worked hard on designing, finding, or making that product. Show it off!
Here's a bonus tip: if you sell apparel, mugs, digital prints, or anything of that nature, consider making a small investment in a bundle of mockup photos from Creative Market. Then, all you have to do is overlay your designs onto the photos. It can save you TONS of time and hassle.
If it's a physical product rather than a digital one, make sure the mockups you use reflect the actual product the customer will receive.
And that's it: 7 essential DIY product photography tips to help you take better photos! If that sounds like a lot of work, don't fret. I started off really basic and gradually upgraded my equipment and props. Don't let the fear of not getting it perfect stop you.
I was still able to make sales before I started putting more effort into my photography. It's really a matter of deciding when you're ready to up-level your sales and your brand.
I hope this helps. I can't wait to see your creative product photos floating around on social media and the internet!