A year or two ago, if you asked me how organized I was in my business, I would have laughed (or cringed). I kept telling myself I was "too busy" to be organized. Finally, I got fed up with feeling overwhelmed and cluttered, and made it a point to sort out my business.
If only I had realized sooner that being organized actually saves you time in the long run.
No more wasting time trying to figure out which task to work on next. No more scouring through piles of loose notes trying to find that genius thought you came up with last week.
Here are my 9 best tips for getting organized in your business.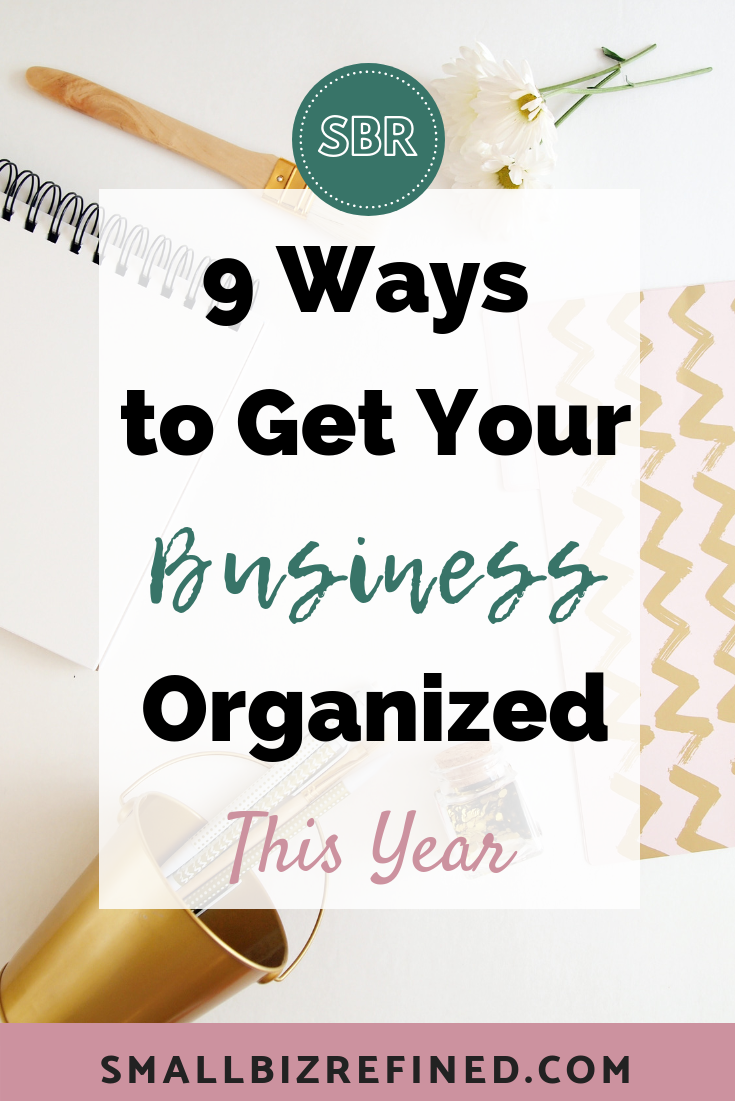 Please note, some links on this page are affiliate links. If you make a purchase through an affiliate link, I may receive a small commission at no additional cost to you. As an Amazon Associate, I earn from qualifying purchases. See my full disclosure policy here. Thank you for your support!
1. Use a Planner (Print or Electronic)
I know, I know. This one might seem obvious to you. But it's so important that I couldn't leave it off the list.
I don't write my detailed to-do list in my planner, because it's always changing and I want to be able to access it electronically. What I do use my planner for is important appointments and bigger-picture weekly & monthly goals.
I like to have a planner in print, because I enjoy writing things down. I keep it near me while I'm working so I can update it whenever I need to. But I also use the Calendar app on my phone for important commitments.
Here's an awesome planner for creative entrepreneurs (with stickers!).
If you'd rather do everything electronically, Google Calendar is perfect for tracking appointments & commitments. For the smaller bite-sized tasks & planning your daily workflow, I recommend using Trello. It's free!
2. Use Microsoft OneNote
I can't be the only one with 1,600 notes in my phone, right?? If you've got more notes than you know what to do with, Microsoft OneNote is your friend.
Just copy & paste your notes into categorized sections, and you'll have a much better time trying to find what you're looking for. You can even drag files onto each page from your hard drive. And yes, OneNote is searchable!
3. Plan a Brainstorming Day Once a Month
This has been HUGE for me. I used to get distracted at least once a day coming up with new ideas when I should have been doing something else.
Set aside one day each month (or each week if that works better for you) to dedicate to brainstorming. This can be either blog posts, social media posts, or new products.
Once you're in that brainstorming mode, you'll be cranking out ideas like crazy. Then you're already set up to create goals & to-do lists for the rest of the month.
I prefer writing with a pen & paper when brainstorming (I find the ideas flow better that way). So my favorite tool is this awesome notebook you can write in and then scan with your phone.
It uses OCR to transcribe the words into an electronic note and sends it to to your email or Notes app. It's the best of both worlds. My sister gave it to me as a gift, and I love it!
4. Track Costs & Income
I didn't put nearly enough effort into this task until last year. It's not the sexiest business task, but it is one of the most important. Without knowing how much you're spending versus making, how will you know if your business is profitable?
Keep an Excel sheet (or use a software like Quickbooks or Freshbooks) to keep track of everything you spend. This includes shipping supplies, products (or materials you use to make your products), and any email or social media marketing software you pay for (Tailwind, ConvertKit, etc).
Don't forget to track any educational digital products you've purchased – these count as business expenses, and you shouldn't have to pay federal taxes on them!
5. De-Clutter Your Workspace
Having an organized workspace will increase your productivity, reduce distractions, and decrease your stress levels (source). That sounds pretty great, right?
Containers like pencil pouches and bins are essential for keeping your smaller items together in one place.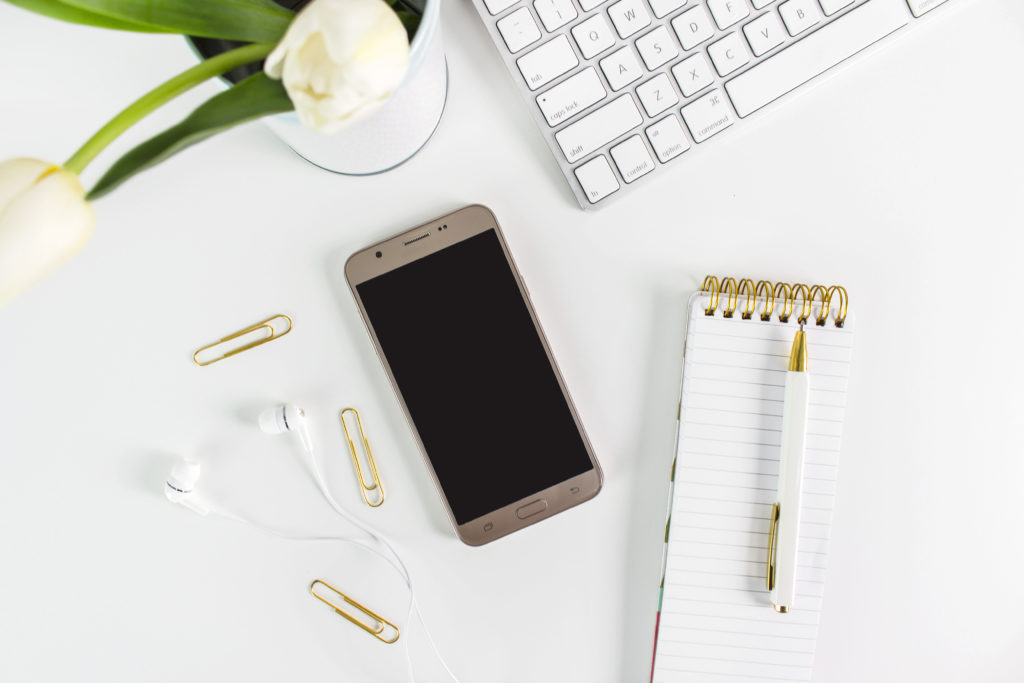 As a creative entrepreneur, though, you don't want your workspace to be too clinical or bare (unless that's your style). Add some pops of color or decoration to keep your creativity flowing! Here are some ideas to get you started:
6. Have a Dedicated Area for Your Materials & Products
There's nothing worse than wasting hours trying to find a pair of scissors. Keep everything you use for your business in a dedicated space so you know exactly where to find it.
Get some clear plastic bins to keep all your shipping supplies in. (I started doing this last year and it made my life so much easier). Get a 3-tiered rolling utility cart to keep any materials handy that you use to make your products.
7. Create a Content Calendar for Your Social Media & Blog
After you've done your weekly/monthly brainstorming, take that list and plug it into your planner or Google Calendar. Mark chunks of time where you'll focus on those tasks and get them done.
Try to take trending or holiday topics into consideration. For example, during Valentine's Day, focus on love or Galentine's related content or products.
Plan when you will prep your Instagram photos (batch them if possible!) and the captions to go along with them. That way you'll know what you're posting and when, and you'll be well prepared for any busy or holiday seasons.
Don't forget to pencil in which dates you'll be holding your brand rep searches on Instagram throughout the year!
8. Do a Weekly Supply Check
Supplies: they are the bane of any product seller's existence. They're in a constant flux of being abundantly available or not at all. This includes shipping & packaging supplies, and any materials you use to create your products.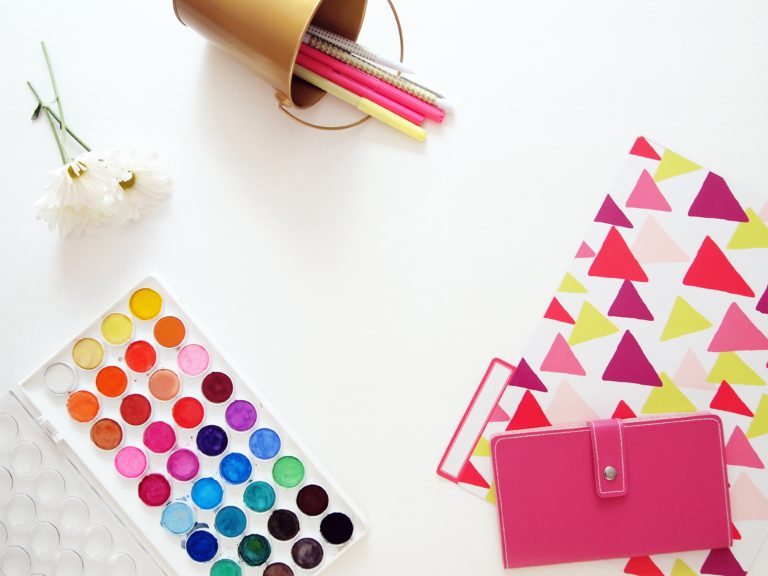 Set up a time in your calendar each week to check your supply stock and order more of anything that's getting low. Planning ahead will save you from the stress of realizing last-minute that you can't ship anything because you're all out of boxes (whoops!).
9. De-Clutter Your Digital Space
Sadly, this is something I haven't done a great job of. I horde files like it's nobody's business. But I plan to work on this in the coming months.
Create a dedicated space for your business files & photos. Organize them into folders by type (for example, I have a folder for Pinterest pins, fonts/graphics from Creative Market, etc). Delete or move files that you don't need. It will be much easier to find what you need faster this way.
That's it! Now that you're prepped for your most organized year yet, check out this post on 7 ways to save time in your business!