I've been working at home for years now, and with so many people new to remote work lately, I wanted to share some of my best tips for working from home!
Working from home can be amazing. You have more freedom to plan your day how you want, you don't have a commute, and you can say goodbye to obnoxious coworkers who talk way louder than necessary on the phone.
Plus, you can wear what you want (hello comfy sweatpants!). But with all that freedom comes responsibility. It's probably not ideal to work from your bed all day while you crush an entire bag of Cheetos. (Not every day, at least ;)) So here are some tips to help you thrive while working from home.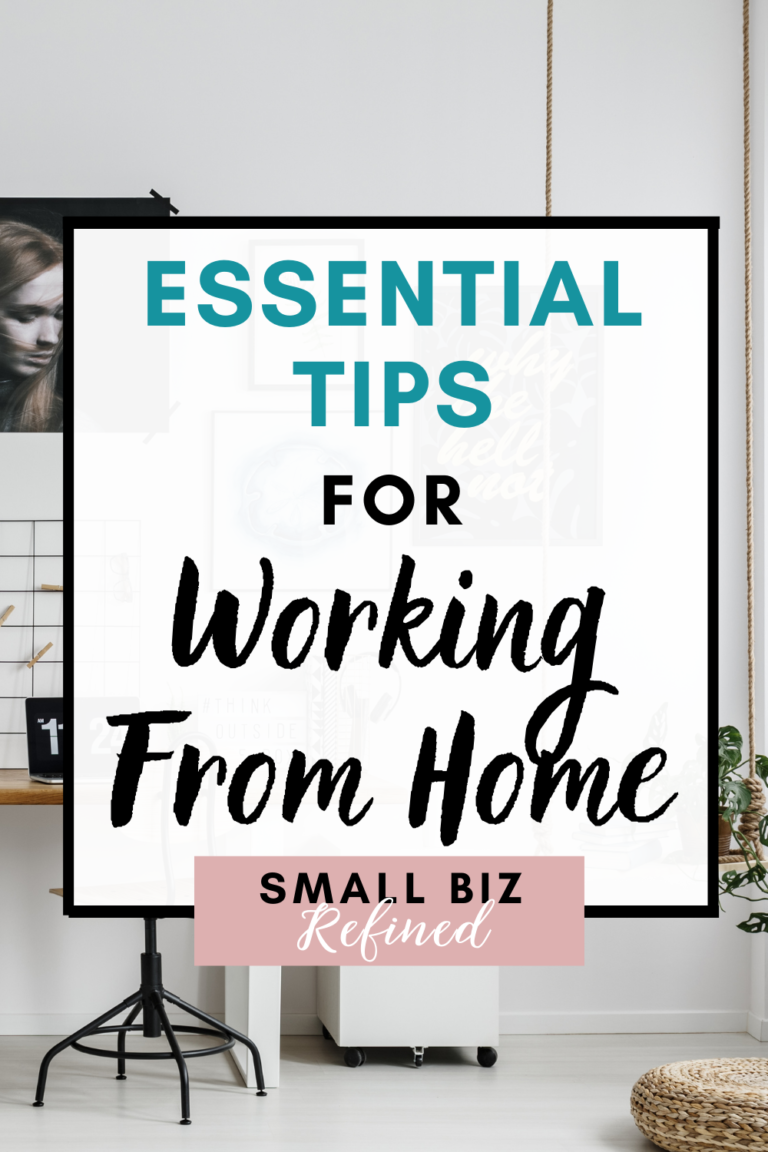 Tips for Working From Home Productively
Use a Designated Work Space at Home
You might be tempted to just grab your laptop and settle down on the couch. While that's fine occasionally, it can't be good for your back to do it long-term! Plus, you need a place to work without distractions. Somewhere you can easily get into the mindset of work – without staring at that pile of laundry that's taunting you.
Try to find a work space that's well-lit, quiet, and ideally separated from the main area of the house. Preferably, an office with a desk and ergonomic chair. It helps to be by a window, too, so you get some natural light flowing in. Nobody wants to feel like they're working in a dark cave!
Schedule Time for Your Morning Routine
You might be tempted to just head straight into work after waking up. Don't do it! Give yourself a little time to wake up, eat an energizing breakfast, and get started on your coffee. Enjoy a moment of peace, if you can – whether that's reading, journaling, or just sipping your coffee on the porch.
Be realistic about what time you can actually start working. There's nothing worse than feeling like you're already behind on work before you even start!
Use Time Blocking to Plan Your Work Time
I live by my Google Calendar. Pretty much everything I do is scheduled there. With client work and two of my own blogs, it's the only way I can keep track of everything!
Time blocking is basically setting aside blocks of time for certain types of work or tasks. Doing this allows you to plan your days and weeks ahead of time, knowing exactly what you're working on and when. For work that I do every day or every week, I set a recurring time block so I don't have to rebuild my schedule every week.
Sticking to your time-blocked schedule makes it easier to avoid distractions. Plus, you're more productive when you focus on just one thing at a time, rather than constantly switching gears between multiple tasks.
Additionally, schedule tasks that require the most focus during your most productive hours. Personally, I'm usually most productive in the late mornings or early afternoons. So I usually plan my easier work for the early mornings or late afternoons.
Schedule Breaks Into Your Work Day
When planning your day, make sure to schedule breaks! You need to take some time to decompress throughout the day. It'll help you focus better when it's time to get back to work. Plus, if you spend a lot of time on your computer, it's important to give your eyes a rest from all that screen time.
If you don't have your breaks scheduled, you might forget to take them. (Please don't do that to yourself!) I always schedule at least 30 minutes for lunch and 30-45 minutes for a walk during the day.
Don't forget to take occasional short 5-10 minute breaks throughout the day, too! Set an alarm on your phone so you know how much time you have.
Meal Prep Your Lunches (yes, it's still important when you're working from home!)
If you're working from home, you're less likely to have a cafe or cafeteria to grab lunch from. Most of your meals will be made at home. Don't wait until the last minute and then scramble to figure out something to eat. Plan ahead!
Set aside some time during the weekend for meal planning, then make a trip to the store for ingredients. That way, you'll have everything you need by the time lunchtime rolls around on Monday.
Many of my favorite weekday lunches are just a bunch of yummy things tossed into a bowl with sauce or dressing on top. For example: sweet potato power bowls, rice bowls, egg roll in a bowl, chicken hummus bowls, etc. You get the idea! This type of meal is perfect for meal prepping.
And if you spend a little time preparing some of the food earlier in the week, you won't have to spend as much time making your lunch during the day. Of course, if you prefer to set aside break time each day to cook lunch, that's fine too. You do you!
Stock Up On Home Office Supplies
Most people who work from home will need a printer, paper, writing utensils – things like that. You may also need job-specific items, like a stylus and iPad/Surface for designers.
Look around at what you already have, then stock up on whatever you still need. Think of it as going back to school. Make yourself a checklist of what you need, then do a quick office supply run.
Not only is it important to have essential supplies on hand, but also just having them around you will make you feel like you're at the office and help you get into work mode.
You might want some non-essential (but fun) items, too, like a planner/calendar, houseplants, a standing desk, or inspiring office decor. Spruce up your space – it'll help improve your mood!
Don't Work in a Bubble
When you work from home, it's easy to get stuck in the habit of working alone every day and avoiding other humans.
Give yourself the chance to meet up with others, or at least have video calls with people you work with. Even going to a coffee shop to work around others can be a refreshing way to switch things up. (I need to work on this one myself!)
I hope you've found these tips for working from home helpful! Give yourself some time to get used to it – it's not easy making such a big change. But once you find a routine that works for you, you'll enjoy working from home more and you'll be be more productive.
Looking for more tips on productivity and organization for creatives and entrepreneurs? Check these out: