Summer is upon us, so it's time to share some summer hashtags for Instagram inspiration! From beach vibes to summer nights, we're talking popular hashtags for summer to get your Instagram posts seen.
When we think of warm weather, we might think of pool days, ice cream, and sunshine. The summer season tends to have a more relaxed vibe, so you may want to emulate that in your post's caption. That way, your hashtags and your caption flow well together.
But before you go adding those hashtags, here's a quick tip: don't focus on super generic hashtags like #summer or #beach. These are used so often that your post will likely just get buried in the hashtag feed (and we don't want that!). Instead, go a little more granular with your hashtags.
To help, I've put together a list of summer hashtags with a mixture of popularity, from 100k+ posts to 6 million+ posts.
Want to get a head start on the rest of the year? Here are 30+ perfect Instagram hashtags for fall and Instagram hashtags for winter!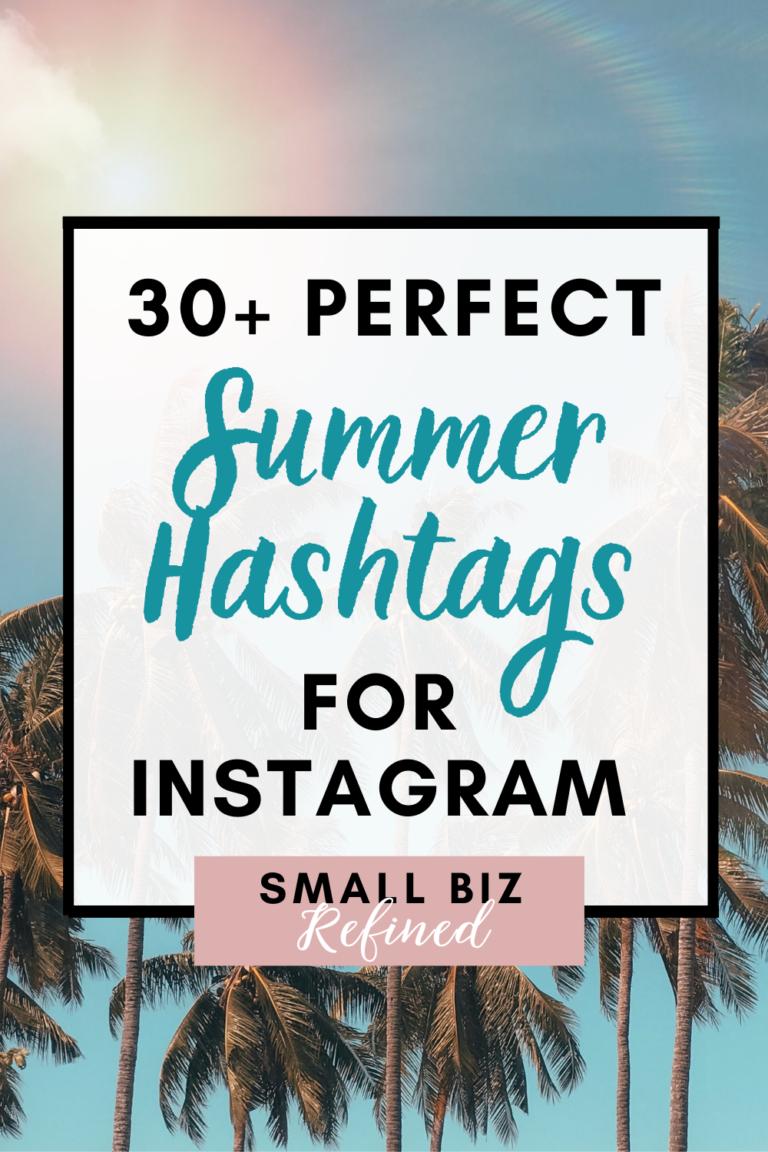 Instagram Summer Hashtags
(These are listed in order from smallest amount of posts to largest.)
#flipflopseason
#sunshineandsmiles
#sunshinestateofmind
#summerinspo
#beachessentials
#letsgotothebeach
#summeraccessories
#sunandsea
#poolvibes
#neverendingsummer
#summerwardrobe
#summeressentials
#sunandsand
#toesinthesand
#sunshinestateofmind
#stillsummer
#poollife
#splishsplash
#summertrends
#lifeisabeach
#vacayvibes
#bbqtime
#summersolstice
#summerfood
#hellosummer
#summerready
#summertreats
#summertimeshine
#summerlook
#summerfeeling
#endlesssummer
#summerlovin
#summerishere
#funinthesun
#summernights
#summerstyle
#summerdays
Of course, those are just some of many summer-related hashtags! For even more inspiration, below is a list of summer holidays and topics to help you brainstorm and grow your own summer hashtag list.
Popular Summer Topics
Weddings
Barbecues/Grilling
Summer Vacation
Road Trips
Camping
Picnics
Swimwear
Sandals
Pool/Beach Days
Ice Cream & Cold Treats
Backyard & Patio Decor
Gardening
And summer holidays (in the U.S.):
Memorial Day
Summer Solstice
Father's Day
The Fourth of July
Labor Day
Summer Olympics (every 4 years)
I hope this list of Instagram summer hashtags helps you grow on the 'gram this summer! Don't forget to look up from that phone and enjoy the sunshine, too. 🙂
Looking for more Instagram tips? Check out these posts: