Anyone who's built an online business knows that creating an online presence is a must. You've got to carve out your little corner of the Internet in order to grow.
So how exactly do you do that? Well, it's different for everyone. It depends on your business and your goals. But I CAN tell you the steps I take each week to grow my own online presence.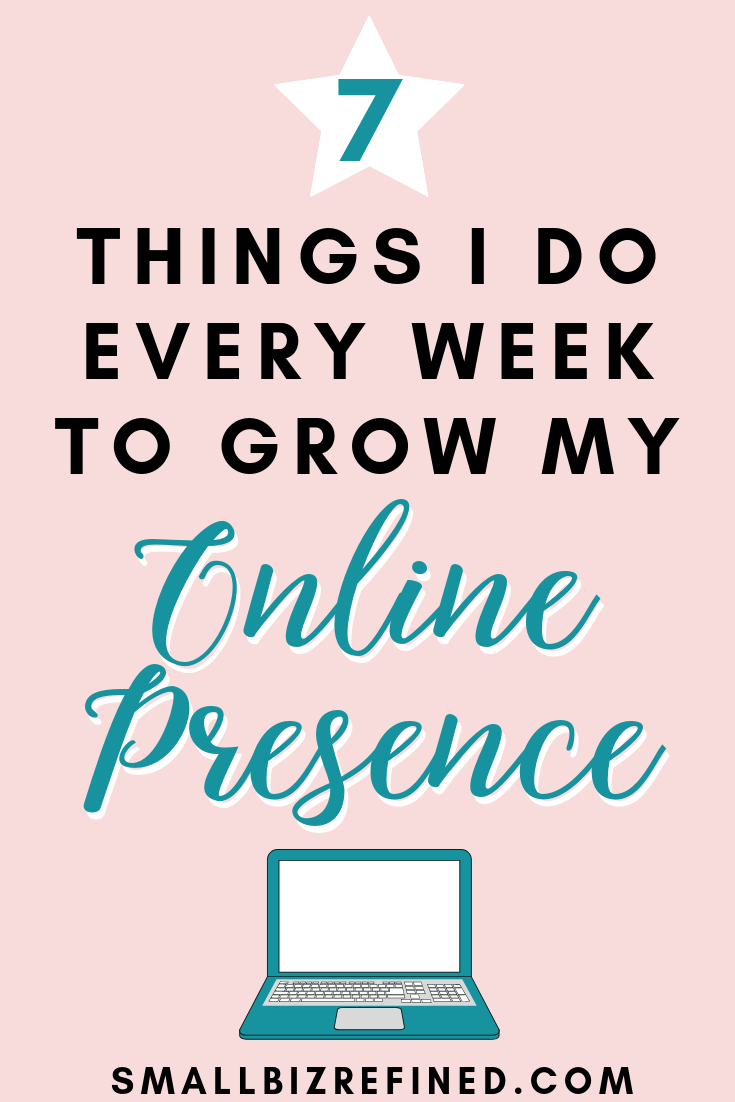 Please note, some links on this page are affiliate links. If you make a purchase through an affiliate link, I may receive a small commission at no additional cost to you. As an Amazon Associate, I earn from qualifying purchases. See my full disclosure policy here. Thank you for your support!
1. Write a blog post
One of the best ways to get found on the 'net is with content.
It's how you show yourself as an authority in your field, it's how you get found on Google, and it plays a large part with Pinterest marketing (because the algorithm rewards those who are seen as "content creators").
So each week, I write a new blog post on a topic related to my business. I take a look at my brainstormed list of topic ideas and pick one. Then, I research keywords to increase my chances of being ranked on Google.
Because, when it comes down to it, higher traffic means more opportunities for growth. Plus, I have to admit I love talking about social media and business strategy (nerd alert!). 🙂
Here are some helpful tips on improving your SEO to get more website traffic.
2. Big-picture business planning
At the beginning of each week, I take a look at my big picture goals.
I ask myself what I want to accomplish, whether that be a standalone mini-project (like creating a new freebie for my email list) or a specific task for a larger project (like writing a couple chapters for a new eBook).
I also plan out any upcoming launches or sales, so I make sure to fit them into my schedule. That way, I don't let the everyday tasks overtake the larger, more income-producing projects.
Plus, doing this gives me a chance to get all my fresh ideas out on paper, so they aren't distracting me while I do my work!
3. Create new Pinterest pins
Another weekly task for me: creating new pins for Pinterest. When it comes to your content, remember to always share it more often than you create it.
You spend time creating awesome content, so why would you only share it once? You should keep sharing it in different ways – including creating multiple pins for each new product or blog post.
Usually, I create 2-4 new pins per week (some for existing content, and some for new content).
I have a few general pin layouts that I re-use to save time, but I switch out the titles, graphics, and images so they're still unique.
4. Fill my Tailwind queue + share pins
Tailwind is one of the best things to ever happen to my business. It's a tool that allows you to supercharge your Pinterest marketing and business growth, without much effort.
You can read all about my Tailwind strategy here (and how much it's grown my biz!).
Each week, I fill my Tailwind queue with pins, and they get scheduled to publish on Pinterest at the best times for my audience. That way, I don't have to spend time on Pinterest at night OR on vacation (because who wants to do that?!).
Additionally, I schedule the new pins I created to my own boards and my group boards, with time intervals to spread them out. I also share these pins to Tailwind Communities, so other pinners can share them with their own audiences.
Tailwind has a free plan, which lets you schedule 20 pins per month AND you can use Tailwind Communities, too! Here's a link to sign up. I use Tailwind so much that I upgraded to the Pro Plan (it's $15/month or $10/month if you pay annually), and it's absolutely been worth it for my business.
5. Write an email to my list
I send a weekly email to my list with tips and insights into social media, marketing, and/or online business.
You've probably heard that it's important to nurture your potential customers. This is a great way to do that! Provide free content that builds trust and shows your knowledge.
You can talk about what's going on in your business, teach about a particular topic, send a new freebie, or share a blog post.
Then, when it comes time to launch a new product, it won't feel like you're selling to your audience.
Instead, it'll feel more like you're providing further value and/or solving a problem for them. And they'll be more likely to buy from you, because they've come to know, like, and trust you.
You can get a free trial to ConvertKit (the email marketing tool I use).
6. Check Google Analytics
Each week, I dive into my Google analytics to see where my traffic's coming from. It allows me to see what's working and what's not.
I can go into detail about which pages are most popular, which traffic sources are performing best, and how I rank in Google search results.
It helps me figure out what I want to spend more time on and what's going to grow my business the most.
7. Media outreach
Every week, I try to spend some time on media outreach. Because as important as it is to work on building your own site, it really helps to leverage audiences that others have already built.
I used to think you had to have an "in", like a journalist friend, to get featured on big media sites & blogs.
But I discovered a back door into the elusive media world.
Of course, you can contact blogs directly and see if they'd be willing to let you write a guest post for them. But there's something even better.
It's called Help a Reporter Out (HARO). And it's one of the ways I've been able to get my own businesses featured on sites like Business Insider and Inc.com.
With HARO, journalists and bloggers are looking for products and quotes to feature in their articles. And YOU might just be the perfect person to give them what they're looking for.
The best part? It's totally free.
Basically, you sign up to receive HARO's emails (sent 3 times per day). You reply to relevant queries via email, providing helpful quotes and some information about yourself (including a link to your website).
Then, if the reporter chooses to use your quote, you'll be featured in that article. (Cue the happy dance!)
And that's it: 7 tasks I do every week to grow my online presence!
At the beginning of every week, each task that I decide to focus on gets entered into my Google calendar, and then I get to work.
I hope this list will inspire your own weekly schedule!