So you've decided to open an online shop and sell products. Or, at least you're thinking about it. Great! Now, how do you decide which selling platform is best?
These days, there are a LOT of platforms to choose from. This is why we're in a golden age for online small businesses: it's easier than ever to get started.
You might want to go the independent route like I did, and sell directly to the people through social media. Or, maybe you'd prefer a built-in audience like the larger sites have.
In order to decide, you'll need to know the positives and negatives of each option.
Large Marketplaces vs. Independent Shops
In general, marketplaces with many sellers (like Etsy and Amazon) will require some effort to make your brand stand out.
This may mean using keywords strategically, improving your product photography and branded packaging, or putting in some extra effort to get rave reviews.
But the startup effort might be less than if you choose to create your own site and find your own customers. These large sites have a built-in interface and don't require you to create anything from scratch (other than your product pages).
If you choose to go it alone instead, it will require more effort upfront. You'll need to plan your outreach efforts for brand exposure, and potentially build your own site.
But, you'll have complete control over your business, and any potential customers that find you won't see competing sellers' products alongside yours.
Plus, you'll be able to use content marketing (blogging) to drive organic traffic to your website, and it'll be easier to get users to sign up for your email list. Because it's not always about getting new customers; it's also about nurturing your existing ones.
Now, I'll break down the pros and cons of 8 major options (plus what I use). That way, you can decide which platform is best for your online shop.
While reading through this list, keep in mind what you're looking for in a selling platform.
Which one appeals to you most? How do you want the face of your brand to look? Do you want to sell products casually, or would you rather put in more effort upfront so your business can expand and continue to grow long-term?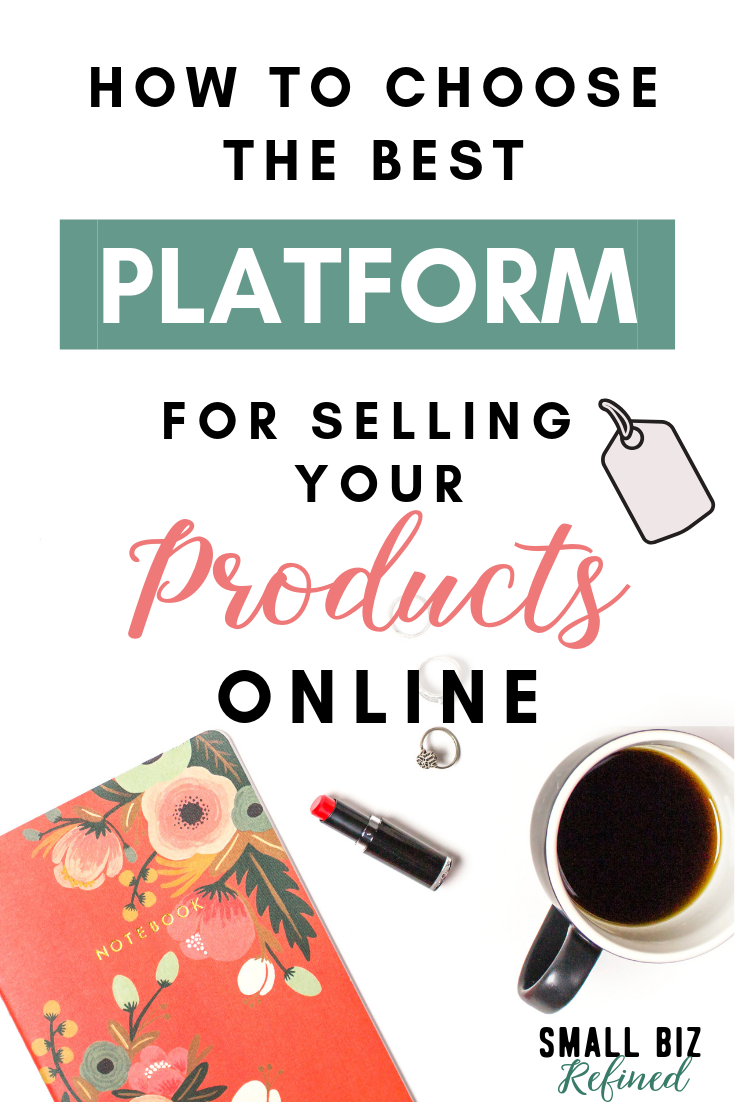 Please note, some links on this page are affiliate links. If you make a purchase through an affiliate link, I may receive a small commission at no additional cost to you. As an Amazon Associate, I earn from qualifying purchases. See my full disclosure policy here. Thank you for your support!
Etsy
Etsy is a great place to sell handmade or vintage items. It's a medium-sized marketplace (compared to Amazon) but it has a built-in audience of loyal customers.
Etsy is known for having creative and unique products that can't be found on larger sites like Amazon or eBay.
There is some competition on Etsy, since there are more sellers now than ever before. But if you have unique products and are willing to spend some time learning how to stand out on Etsy, you can be really successful.
Keep in mind, vintage items must be at least 20 years old to qualify for selling on Etsy.
Like most marketplaces, Etsy does collect fees for each item you sell. You'll need to factor that into your plan if you decide to sell on this popular platform.
Creative Market
If you're a digital designer, Creative Market might be a great fit for you. It's a marketplace for fonts, graphics, templates, and other digital design products.
Personally, this is my go-to marketplace for any small business graphic design needs. There are over 5.6 million members, so it looks like I'm not the only one!
Again, with this type of marketplace (similar to Etsy), there are many sellers. You'll need to put in some work to stand out.
Instagram + PayPal
You might be wondering what this means. Actually, this is how I sell a majority of my products in my own online shop.
This is a relatively new strategy, and it takes a little more work upfront. But it can be really successful.
For sellers, part of its appeal is that you're going straight to the people: your products will show up in the Instagram feeds & stories your audience looks at every day. You're easily at the forefront of your audience's mind.
The best part about this: it's much easier to gain social proof and interact with your potential & current customers. They're already in the app, so they can easily contact you if they have a question (or a new product idea!).
>>>>>>>>>> Related post: 7 Powerful Ways Instagram Can Help You Sell More Products
How it works:
You post photos of your products on your Instagram feed (or stories), and people comment or direct message you if they want the product. Then, you send them a PayPal invoice from a PayPal business account. That's it!
PayPal makes it really easy to track your Ready to Ship orders, and print shipping labels with all the information already provided by the user.
The downside of using this method is that you'll have to spend time creating invoices, instead of users being able to check out on their own.
Don't worry, I have a solution! Start with the Instagram method on its own (like I did) to build up your audience, sales, and credibility. Then, create a Shopify site (it's super easy), and allow people to buy from you that way. It's the best of both worlds!
If you do decide to use this strategy, I highly recommend partnering with brand representatives, especially when you're first starting out. This is a great way to show people you're a trustworthy brand, get more exposure for your products, and increase the size of your audience.
Shopify
In addition to Instagram, I use Shopify, and I absolutely love it. It was easy to set up and it's got all the functionality I need for my online store.
You can easily create discount codes, product collections, and even a blog to draw more customers to your site.
For me, the pros greatly outweigh the cons when compared to using an online marketplace like Etsy. But, I want you to be able to make an informed decision on whether or not it's right for you.
Here's a list to make that easier:
Pros:
You get full control over your store & brand identity
You can easily start a blog for your shop and use content marketing & SEO to get traffic from search engines
It's easy to add an opt-in form for your email list
It has built-in analytics for your product sales & marketing efforts
Once someone's on your site, they don't get distracted by other sellers' products
Cons:
Compared to a marketplace, you'll put in more work upfront to build the site (but, Shopify doesn't require too much time or technical know-how)
You have to put in more effort to drive traffic to your site (Pinterest, Instagram, and blogging are all great strategies for this)
If you think you might want to go this route, consider testing it out to see if you like it. You can get a free trial to Shopify here.
>>>>>>> Related post: The Best Way to Drive Traffic to Your Online Shop or Website
Zazzle
Zazzle is a platform for artists and creatives to sell their designs and photographs, so consumers can use them to create customized products. Popular items include T-shirts, mugs, and cards.
Keep in mind that both consumers and sellers alike use Zazzle. Your designs may be resold on another seller's product. But, that might be a great thing for you, because that might mean bulk orders and more sales!
As a seller, you won't have to deal with shipping orders, because your products are digital. Plus, Zazzle takes care of all the manufacturing. The downside is that you only get a small percentage of the profits.
Amazon & Amazon Handmade
The behemoth Amazon has been around a long time, but its offshoot, Amazon Handmade, is quite new.
That particular section of Amazon is similar to Etsy in its product offerings, but it has the added bonus of Amazon's brand identity and insane traffic volumes.
Again, with large marketplaces like these, there's always that trade-off. There's more traffic, but also more competition between sellers.
Since Amazon handmade is in the earlier stages of its inception, there may benefits to being an early supporter. Keep in mind, though, they also charge fees for each item sold.
eBay
eBay has been around a long time, and for good reason. It's a go-to site for vintage and secondhand items. You can sell new products there too, but it's difficult to establish yourself as an independent brand.
One of the best features of eBay is its auction sale option. Users can bid on items, and if they get into a bidding war, that can drive the price up.
If you're not sure what an item is worth, this is a great way to sell it. It may be valued much higher than you originally thought!
If you sell rare or antique items, eBay may be the right platform for you.
CrateJoy
Subscription boxes are all the rage these days. You may have heard of the FabFitFun box, or the Book of the Month subscription.
These are just two examples of a selling model that brings in continuous revenue. I mean, who doesn't love a mystery box full of gifts in the mail?
If you're looking for a marketplace to sell a collection of assorted goods each month, check out CrateJoy.
WordPress + WooCommerce plugin
If you have an established blog on WordPress that already gets traffic, you can add an online shop with the WooCommerce plugin.
You already have a built-in audience who trusts you. So why start from scratch? As long as your products are related to your blog's niche in some way, you're good to go.
For a more robust e-commerce store, Shopify is the better choice for its enhanced functionality. But WooCommerce is a great choice if you've established yourself on WordPress, or want the e-commerce features for your blog.
I hope this post has helped you narrow down which corner of the Internet is best for setting up your online shop! 🙂
If you're looking for more helpful information, here's a post on 5 ways I grew my own online shop and how to do free market research to find out which products people really want.